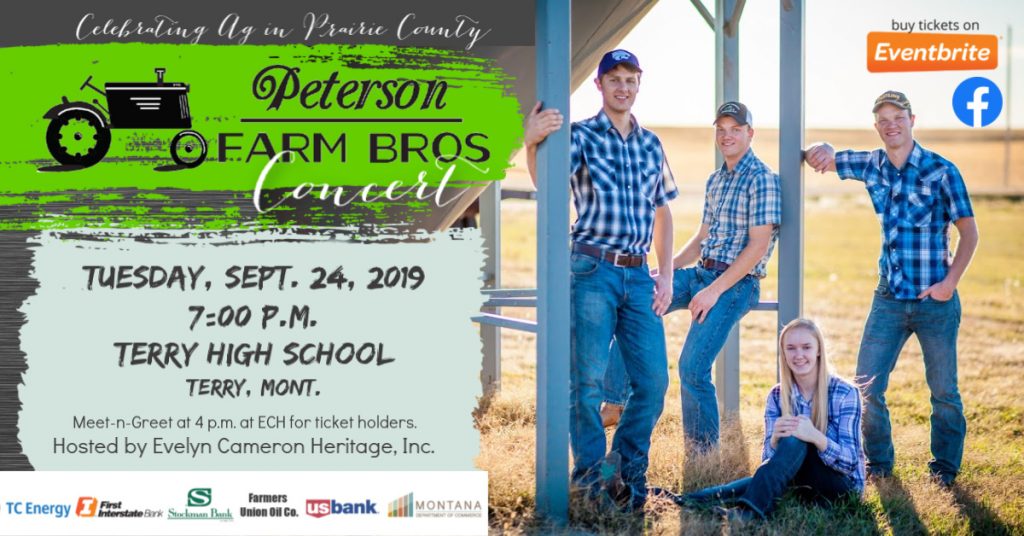 Faith, Farming, Family: The Peterson Farm Bros. are made up of Greg (28), Nathan (25), Kendal (22), and honorary "bro" Laura (18) Peterson, siblings who farm together with their parents near Assaria, Kan. They produce entertaining and educational videos to inform people about farming and agriculture. Their entertaining performance is a must-see as we celebrate the joys and challenges of farming and ranching in Eastern Montana – and salute those who make a living feeding the world.
Tickets $15/person
Date Tuesday, September 24, 7:00 p.m.
Location Terry High School, Terry, Mont.
Celebrating Agriculture in Prairie County
Meet-and-Greet with the Peterson Bros. (ticket holders only) ~ 4 p.m. ~ Evelyn Cameron Heritage Building ~ 212 W. Laundre St. ~ Terry, MT